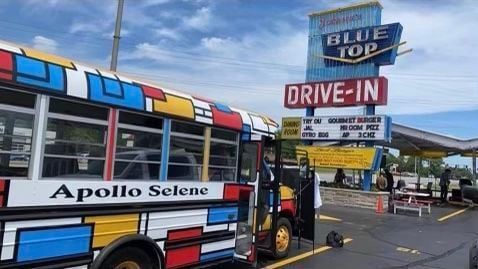 The band Apollo Selene will play a few concerts this week in Northwest Indiana as it returns to its roots in the Calumet Region.
The group that plays blues, rock, soul and original music will perform at 10 p.m. Wednesday at Cheers Food and Drink at 1942 45th St. in Munster, at 8 p.m. Friday at 313 Taproom at 313 Ridge Road in Munster and at 9 p.m. Saturday at White Rhino at 101 Joliet Street in Dyer.
"It's a nice mix of rock, blues, soul and alternative," guitarist Ethan Liser said. "We try not to paint ourselves into one corner. We play what we feel and have fun with it."
Inspired by ancient Greek mythology, the band is named after both the Greek goddess of the moon Selene and Apollo, the Greek god of the sun, healing, music, poetry, art and knowledge. Apollo Selene has played across the Region, including at Danny Z's in Munster, Blue Top Drive-in in Highland and an outdoor music festival in Hobart. The group, whose members went to high school together and now attend Indiana University, also has performed at Bluebird, Bear's Place, Switchyard Park and IU football tailgates in Bloomington in south-central Indiana.
Featuring several singers and multi-instrumentalists, Apollo Selene features electric guitar, acoustic guitar, bass guitar, piano, ukelele and "even some tambourine." It's known for its lively live shows.
"Our shows are pretty eclectic," Liser said. "We play a nice mix of covers, the best of everything. We play what we feel in the moment. Every gig is unique."
After hitting the recording studio, Apollo Selene plans to release its debut song "Times of Never" on Dec. 17. It describes the track as "the perfect song for a sunset cruise." It will be released on all major streaming services, including Spotify, Apple Music, Amazon Music, Pandora and YouTube.
The band is back together in the Region for Thanksgiving to kick off the holiday season at several local shows, said Jay Lieser, whose sons play in the group.
"My twins have a band that is a hybrid of local Region rock stars," he said. "They've been play individually for years and now as Apollo Selene since the spring of '21."
The band hopes to release more music in the future.
"Our long-term goals are to get recognized and get more music out," Manager Evan Liser said. "We have a single coming out in 2022 and we're looking to book gigs. We want to make the Apollo Selene name bigger than us and have our music played for generations."